MathGen Math Worksheet Generator Demo - Options Screen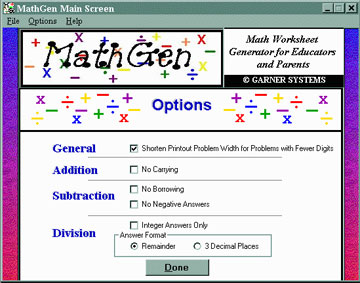 Now MathGen's basic options can be set to your worksheet needs:
The printout width of problems with 1 or 2 digits can be shortened compared to 3 and 4 digit problems by setting the General Option. If this option is not checked then all problems will have the same overall width.
Addition problems can be set to allow or eliminate the "carrying" of numbers.
Subtraction problems can be set for no "borrowing" and for no negative answers.
Division problems can be set for integer answers only. When this option is set all generated division problems will result in a whole number answer. If the Integer Answers Only option is not selected then answers on the answer sheet can be in a remainder format (for example 224R28) or to 3 decimal places (for example 224.125).
Click on the Done button above or the Next button below to continue.


Home - What is MathGen? - Free Worksheets - Demo - Prices



Copyright © 2018 Garner Systems - MathGen.com. All Rights Reserved.